The Brotherton Indians of New Jersey, 1780
A primary source by Bartholomew Calvin et al.
View this item in the Collection.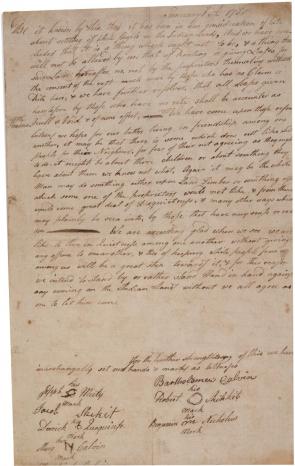 During the French and Indian War, the Lenni-Lenape (or Delaware) Indians of New Jersey were among the tribes that signed the Treaty of Easton of 1758. The tribes agreed not to support the French in the colonial conflict and to leave their eastern lands in exchange for a British promise to stop incursions into Indian territory west of the Alleghenies. While many Lenapes chose to leave New Jersey, a few who had converted to Christianity stayed. New Jersey set aside its first Indian reservation, known as "Brotherton," near present-day Indian Mills in Burlington County. Led by the Reverend John Brainerd, a missionary, approximately 200 Native Americans settled at Brotherton and established a community around grist- and sawmills.
The reservation never became self-sufficient, and after Brainerd left in 1777, circumstances became increasingly difficult. This document from 1780 shows the Indians' attempt to retain control over the Brotherton land. The residents agreed to stop leasing or selling their lands to white settlers in order to maintain peace within the tribe:
We are exceeding glad when we see we are like to live in Quietness among one another without giving any offence to one another, & this of keeping white people from or among us will be a great step towards it, & for this reason we intend to stand by or rather stand Hand in hand against any coming on the Indian Lands without we all agree as one to let him come.
Conditions at the reservation continued to deteriorate and in 1796, the Oneidas in New Stockbridge, New York, invited the remaining members of the Brotherton community to join them. They decided to stay in New Jersey, and in 1798 signed a "publick expression" affirming that decision (see the Brotherton statement of refusal to leave New Jersey, January 20, 1798 [GLC00540.02]). Three years later, however, they changed their minds, and the New Jersey Assembly agreed to sell the reservation and give the profits to the remaining tribal members. In 1802, most of the men and women from Brotherton left New Jersey to join the Oneidas, while a few stayed behind and were integrated into the white community.
Excerpt
Be it known by this, that it has been in our consideration of late about settling of White People on the Indian Lands, And we have concluded that it is a thing which ought not to be, & a thing that will not be allowed by us, that of Renting or giving Leases for said Lands, hereafter, no, not by the proprietors themselves without the consent of the rest much more by those who has no Claim or Rite here . . . We have come upon those resolutions we hope for our better living in friendship among one another, it may be that there is some which does not like white people for their Neighbours, for fear of their not agreeing as they ought to do. it might be about there children or about something they have about them we know not what, Again it may be the white Man may do something either upon Land Timber or something else which some one of the proprietors would not like & from thence would come great deal of Disquietness.
A complete transcript is available here.
Questions for Discussion
You are seeing this page because you are not currently logged into our website. If you would like to access this page and you are not logged in, please login or register for a gilderlehrman.org account, and then visit the link that brought you to this notice. Thanks!
Metadata
Make Gilder Lehrman your Home for History
---
Already have an account?
Please click here to login and access this page.
How to subscribe
Click here to get a free subscription if you are a K-12 educator or student, and here for more information on the Affiliate School Program, which provides even more benefits.
Otherwise, click here for information on a paid subscription for those who are not K-12 educators or students.
Make Gilder Lehrman your Home for History
---
Become an Affiliate School to have free access to the Gilder Lehrman site and all its features.
Click here to start your Affiliate School application today! You will have free access while your application is being processed.
Individual K-12 educators and students can also get a free subscription to the site by making a site account with a school-affiliated email address. Click here to do so now!
Make Gilder Lehrman your Home for History
---
Why Gilder Lehrman?
Your subscription grants you access to archives of rare historical documents, lectures by top historians, and a wealth of original historical material, while also helping to support history education in schools nationwide. Click here to see the kinds of historical resources to which you'll have access and here to read more about the Institute's educational programs.
Individual subscription: $25
Click here to sign up for an individual subscription to the Gilder Lehrman site.
Make Gilder Lehrman your Home for History
---
Upgrade your Account
We're sorry, but it looks as though you do not have access to the full Gilder Lehrman site.
All K-12 educators receive free subscriptions to the Gilder Lehrman site, and our Affiliate School members gain even more benefits!